I have been working trying to organize my spices since we did our small kitchen renovation. Yup, it's been awhile. Since I can't do much of anything physical while my toe is healing I figured this would be a good time to get this project finished and crossed off my list.
This is what I used before to store our spices. My husband built this for me quite a few years ago. It was a Martha Stewart copy. I don't believe you can even buy them any more. He did a great job and it has served us well. It hung on our kitchen wall. When we renovated I had to find a new spot for the spices.
This is what my drawer looked like just a few days ago. Not pretty and not organized! Plus when I opened the drawer, everything slid to the back.
I wanted to reuse what I already had so I emptied the spices, washed the jars and removed the old labels. I made sure the jars were completely dry before refilling them.
I used my Cricut to cut 1-1/4" circles from black self-adhesive vinyl. If you don't have a Cricut, Amazon has some that you can buy.
I used my P-Touch label maker to print out the names of the spices.
And, yes I did alphabetize them. It wouldn't be very good organization if I didn't.
Now, I needed a way to separate the rows and keep them separated. I had these heavy duty cardboard dividers in my craft room. I don't remember what their original purpose was, but I held onto them in case I would need them some day. That day came and they were perfect. I had to trim probably about 2" off each one so they would fit snugly in the drawer.
Now, my spices are neatly organized in a drawer right next to my stove. This makes it so much easier when I'm cooking. Plus it looks pretty too.
I hope this has inspired you to organize your spices.
Thank you for visiting.
I'll be sharing here: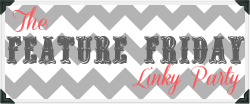 The Thrifty Groove