I am thrilled to be able to cross another project off my to do list and super excited to share it with you. I'm going to show you how I took this chair:
and turned it into this:
There was no sewing involved and these are the only tools I used:
I took 2 yards of fabric that I got at Jo-Ann's on sale...50% off for a total cost of $15.
I couldn't get the back of the chair off so using the screwdriver and a bone folder I just pushed the fabric between the backing of the chair and the cushion.
I was able to take the seat off, but couldn't get the backing off so again after cutting fabric to fit, I just pushed it down in.
It took me about an hour total. That space is tight so I'm confident that it won't pull out. Unfortunately there was some damage done to my bone folder. Notice the broken tip. Oops.
I'm pretty happy with out this project turned out. Let's take one more look.
I can't wait to show you what I'm going to do with these flowers that I'm making from brown lunch bags.
Thanks for stopping in. Have a great day!
I'm sharing here: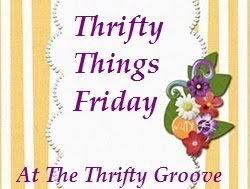 Some Good Stuff